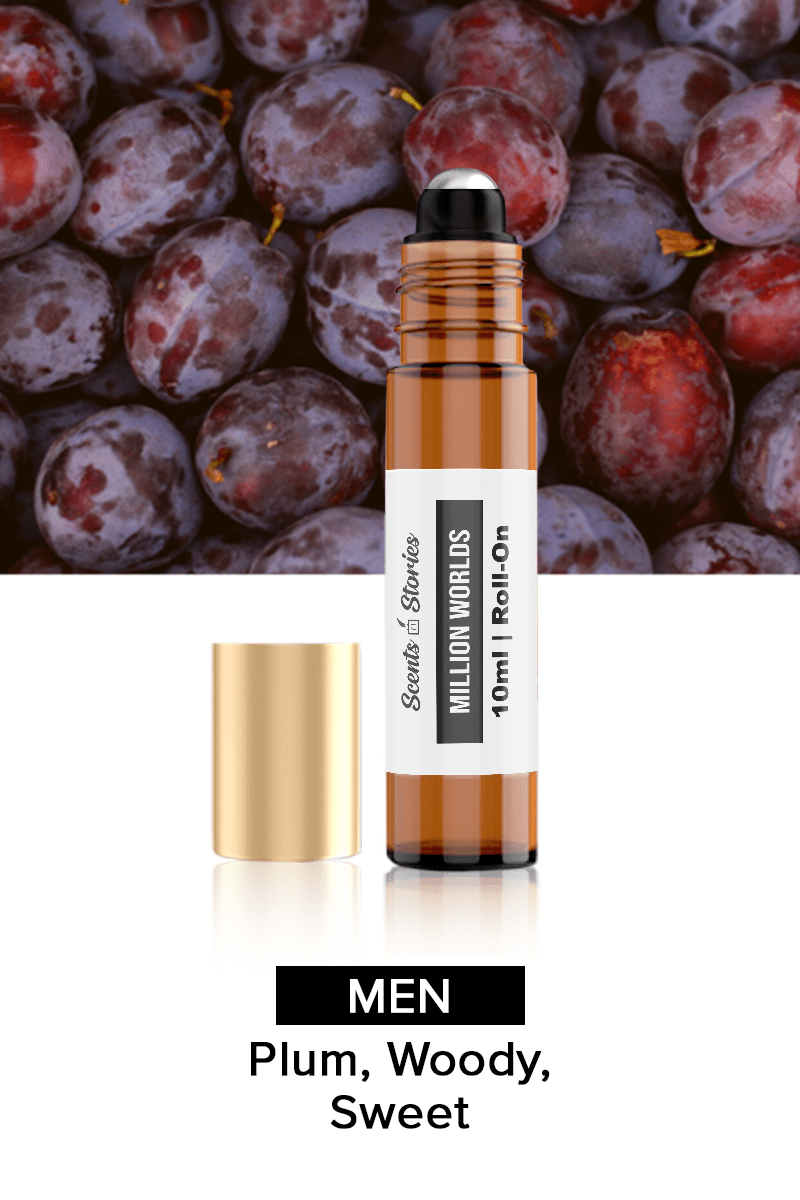 Million Worlds - Roll On (10ML)
Million Worlds - Roll On (10ML)
Regular price
Rs.750
Rs.750
Award Winning Fragrance Brand
Million Worlds is a famous woody spicy fragrance for men. The blend of accords make it a unique and appealing fragrance. The main accords of the fragrance are warm spicy, cinnamon, citrus, amber, woody and leather.

The top notes include blood mandarin, grapefruit and mint, whereas the middle notes consist of cinnamon, rose and spicy notes. The base notes include amber, leather, Indian patchouli and woody notes. Million Worlds is best for wearing in all seasons except summer. 
To find out which famous perfumes it is most similar to, just write down Million Worlds in the Scent Bot or Click Here.
Description
Million Worlds is an addictive and great perfume. It opens with a blast of cinnamon and mandarin orange infused with fresh petals of rose. The dry down is full of aromatic leathery notes that makes it a masterpiece. Indian patchouli and amber are rich and sultry, the combination of which enhances the scent more deeply. The citrusy hints remain till the end. 
Million Worlds perfume has a heavenly scent and even though it is sweet it is very masculine, heavy and unique. It gives appealing and bold vibes. The performance is beastly with an extraordinary lasting of 24 hours along with medium sillage. This fragrance is suitable for fall, winter and spring. It is definitely not for office use but it is best for formal occasions, evenings and nights out.
Notes
Performance
Variants:
We offer this perfume in one format:
Roll-On Perfume Oil: Our 10ml amber glass bottle has a stainless steel roller ball for your smoothest application. It's the perfect size for your gym bag, purse, car, or wherever you need to freshen up!
Concentration:
Roll-On Perfume Oil - Concentration: 100%
(Eau De Parfum)
Sillage & Lasting:
Sillage: Medium
Lasting upto: 24 hours (measured in standard atmosphere)
Shipping
Deliveries in Karachi and Lahore are done within 2-3 days.
All other cities take 3-4 days to deliver.

Delivery charges are Rs.169. Free delivery for orders above 3500.

Flash deliveries through our two dedicated dispatch centers in Karachi & Lahore.

Kindly place your order at the earliest to get your product as soon as possible.

The self-pickup option is also available at our Experience Center in Lahore and Karachi.

Call us at 03111007862, or leave a voice note if you have any queries.
People often misspell this perfume as: 1 million.