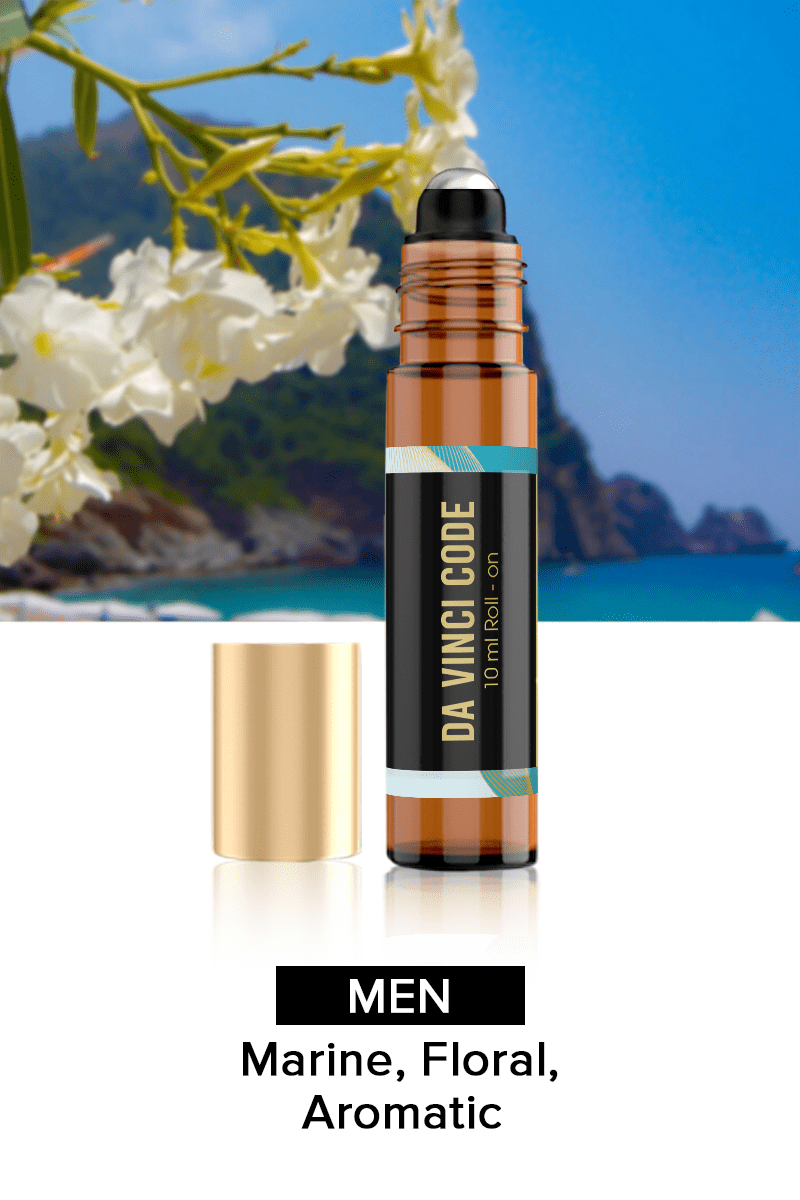 Da Vinci Code - Roll On (10ML)
Da Vinci Code - Roll On (10ML)
Regular price
Rs.730
Rs.730
Da Vinci Code is an aromatic aquatic fragrance for men. Being full of wind and water, this scent depicts freedom. It smells fresh like a beach and has a masculine character.

The top notes are Lime, Lemon, Bergamot, Jasmine, Orange and Neroli, while the middle notes are Sea notes, Calone, Freesia, Rosemary, Coriander, Nutmeg, Rose and Violet. The base notes include White musk, Amber, Cedar, Patchouli and Oakmoss. This perfume is representative of the mediterranean: the ocean breeze, citruses, light flowers and a few dry trees. 
To find out which famous perfumes it is most similar to, just write down Da Vinci Code in the Scent Bot or Click Here.
Description
Da Vinci Code is a refreshing and uplifting scent. It is simple yet extremely sophisticated, making it a legendary fragrance. The opening of this perfume has a bunch of marine notes which create a clean, fresh and balanced fragrance. The lime is quite perceptible in the beginning, and blends with the jasmine to give a truly iconic scent. The base of this perfume has patchouli and musk making the dry down warm and masculine.  
Da Vinci Code perfume smells fantastically clean and fresh. This is an invigorating oceanic scent with an excellent lasting and decent sillage. Da Vinci Code is the perfect scent for office wear. It performs well during summer and spring.
Notes
Performance
Variants:
We offer this perfume in one format:
Perfume Oil: Our 10ml amber glass bottle has a stainless steel roller ball for your smoothest application. It's the perfect size for your gym bag, purse, car, or wherever you need to freshen up!
Concentration: 
Roll-On Perfume Oil - Concentration: 100%
(Extrait De Parfum)
Sillage & Lasting:
Sillage: Medium
Lasting upto: 7 hours (measured in standard atmosphere)
Shipping
Deliveries in Karachi and Lahore are done within 2-3 days.
All other cities take 3-4 days to deliver.

Delivery charges are Rs.169. Free delivery for orders above 3500.

Flash deliveries through our two dedicated dispatch centers in Karachi & Lahore.

Kindly place your order at the earliest to get your product as soon as possible.

The self-pickup option is also available at our Experience Center in Lahore and Karachi.

Call us at 03111007862, or leave a voice note if you have any queries.
People often misspell this perfume as: citrus cave, aqua di, aqua, aqua di gio.